Author: Rafael Wolf | Libertarian Candidate, Michigan House of Representatives
Editor: Bonnie Warren
How or why do you think we have the present education model in the United States? The vast majority of children in the United States attend public institutions of "primary, secondary and higher education" right? But why? This is perhaps an initiative historically birthed with good intentions in mind but that later devolved into a business model and a model to indoctrinate a captured class of impressionable children as we currently find it with factions of left and right bickering about nonsense as it relates to "education". Centralized educational institutions became a part of "nation building" and for some with means a way to preserve personal values among their offspring for a number of reasons. The United States now, having been built, we do not think about how we got here. How is it we find ourselves in a situation of low literacy, low competency and having shortages of opportunity for "good jobs" with a diminished work ethic? We do very little root cause analysis often blaming the symptom in bipartisan fashion, rather than blaming the actual disease. With respect to an education model in the United States, for a time, there is only a hint of "business" when you look at the history only later being co-opted by business interests. In part historically, there was motivation for establishing centralized educational institutions as a mechanism to push the economy forward spurring growth with the promise of "good jobs" by a few foundational leaders in the early 1800's. Remember the historical context here, the nation was being built!
Educating children of the poor and middle classes would prepare them to obtain good jobs, proponents argued, and thereby strengthen the nation's economic position.

History and Evolution of Public Education in the US
Horace Mann, the godfather of "public education" in the United States, made statements in the 1830's that education could lead to getting a "good job" which can therefore strengthen the economy and is still used by politicians today. Is it not? Just wait! You will hear it! It is also the promise of every brochure or commercial from a college or university. A good job means more money and stability right, but which came first? The education or the job (chicken-and-egg dilemma)? Education at one point in our history, was for the elite, the first class citizen who's family could afford it or possibly from a rare break out learner that made for themselves opportunity. Higher education was mostly exclusionary, a societal separator. In fact, the "wealthy elite" have always been educated as societies "corporate managers" also known as "the managerial class" while the rest of society are "the working class" or "the poor" often inheriting their father or mothers professions. My daddy was a carpenter, my daddy's daddy was a carpenter, and so on. Education in the United States is in fact, a class problem and remains largely a class problem. You see it in how schools are unequally funded with the majority of "nice neighborhoods" having "nice schools" while poorer less affluent neighborhoods lack basic resources. Still today, many of those with financial means educate their children differently, even our elected officials, yes, likely the one you voted for, educate their children in private institutions, have tutors, they afford their offspring opportunity not all children have access to and even if they are in a "public school" it is one that shines because other elites send their children to it making sure it is well funded because it is part of an elite community. It was thanks to Horace Mann's efforts that education is "free" to citizens of a state, funded by taxation and widely available although, to varying degrees of quality as mentioned. Also note that education is not technically "free" as tax dollars pay for public education even if you do not have children. Education was, is and will continue to be an evolutionary institution continually changing and sometimes victim to market forces. Market forces here means business interests. Remember this, the evolution of education in the United States is important and is the greater context in our thinking as we give you the strait dope on education. The institution of education in the United States was not in any way shape or form "uniform" until the post 1970's, it was not "standardized" and in fact it continues evolving today with any number of experimental educational models being implemented across the country (home schooling, free range, STEM academy, etc). Western Michigan University in fact, located in Kalamazoo, MI was one of Michigan's first "normal schools" and an early institution that supported the burgeoning infrastructure of education in Michigan. Western Michigan University's purpose at the time was to educate the educator in the craft of teaching as the public education system continued expansion and centralization under state control. In the United States the "Prussian model" of education was highly influential and is of particular note here in Michigan. Mann, after traveling to Prussia learning about their education model brought back and implemented a mostly Prussian model of state education in his state of Massachusetts. It was this model that became the template for the rest of the country including Michigan.
The Prussian approach was used for example in the Michigan Constitution of 1835, which fully embraced the Prussian system by introducing a range of primary schools, secondary schools, and the University of Michigan itself, all administered by the state and supported with tax-based funding.

Prussian education system
Oddly, Libertarians are mentioned in the Wikipedia citation as being negative on aspects of the Prussian model. I am not personally opposed but like all systems, centralization as mentioned in other pieces, can be dangerous if the system is used to indoctrinate and enslave rather than to free and liberate. Obedience training from a societal perspective begins at an early age and the education system heavily influences such training. Aspects of the Prussian model are supposed to breed independent thought and independence which is positive. I suspect Libertarians are negative, because of how the model is funded, with taxation which is not important in this discussion. In the Prussian military that was influenced by this educational model "a high level of understanding, literacy (and intense training and education) at all levels actively invited involvement and independent decision making by the lower ranks." was an important part of Prussian military successes. To me, those are Libertarian values and positive not negative but as the education system evolves in the United States, and Michigan, we begin seeing a corruption of these early methods where youth are shaped with indoctrination, false US mythology, shallow skill building and quite frankly, poor quality in the majority of schools. We see this in schools today that are considered "good". In fact, comparatively, they are mediocre at best and for a number of reasons. Do not believe the hyped statistics that the United States is #1 in the world in education, that is quite frankly a laughably skewed statistical methodology and premium propaganda. I suppose it could be worse…
Make no mistake, early on and in the beginning of the twentieth century (the 1900's) education in the United States was a struggle. It was not all roses. We can glean insight into this fact because of data collected from the recruiting literacy test scores in WWI and WWII. The US Army was the first organization in the US to do mass literacy testing for their recruits. In war, you need a literate troop force able to read the field manual! What the US Army found was a high number of illiterate people. They then rejected the failures as soldiers only later having to lower their literacy threshold because they needed more troops! What's fascinating is, they had a solution to the problem! Do you know what it might be? Can we learn from this history and possibly apply it as a solution to similar problems we face today?
As a result, and out of necessity, the U.S. Army "embarked on one of the largest programs of basic adult education in human history" (Brandt, p. 487). Through the use of special training units — well-funded, with qualified teachers, specially-designed course material, and small class sizes — nearly 95% of illiterate recruits achieved minimum literacy within two months, a remarkable success rate. These soldiers were then able to go on to the standard basic training. Later research found that many of these men continued their education after leaving the military.

Soldiers Literacy Training Collection
An obvious solution was to fund education with qualified teachers, have specially designed course material, and small class sizes. They were able to accomplish solving a literacy problem in only two months yet, politicians today can not seem to get it done. A result of continual inaction is one of the plights we find ourselves in as Americans, you guessed it, poor literacy rates where "Half of U.S. adults can't read a book written at the 8th-grade level." You also have to continually hear, cycle after cycle, politicians from house reps, senators, governors, and presidents, the promise of a "good education" and "good jobs". "Good education" and the promise of one has become a worn out campaign slogan, another empty promise, a laughable political dog whistle.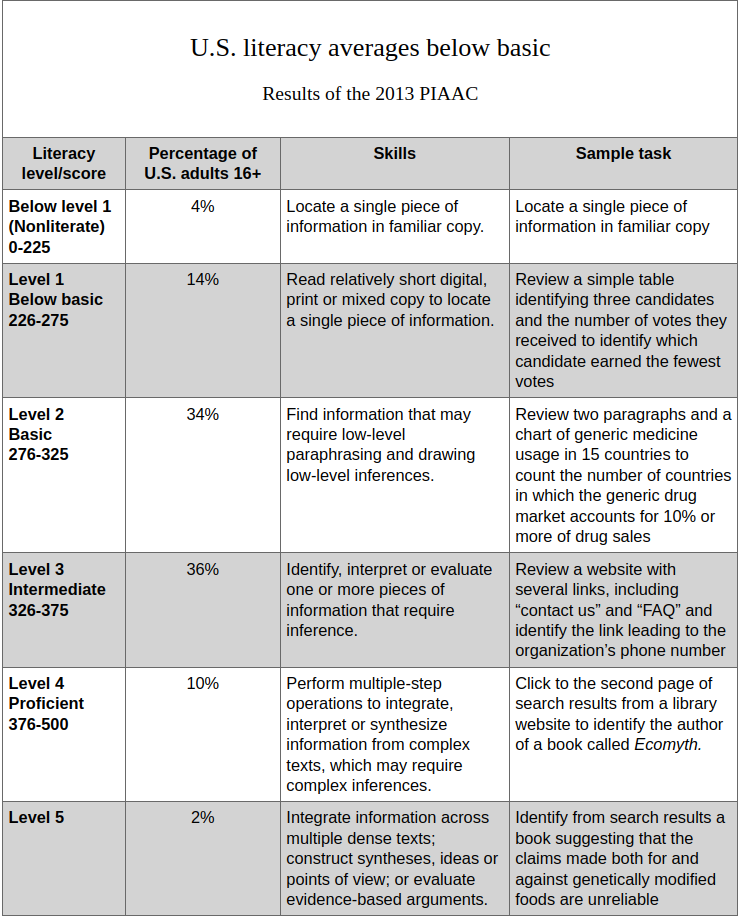 All this is key as you continue understanding "state run education" systems. These systems can get the job done but they need to actually be well funded, less centralized, with small class sizes and simply flatter with less administration focusing on education, not athletics, not more "administration" or other distractions like "summer break". Extracurricular activity, not gym class but sports, can be pursued outside of the publicly funded educational model. More resources need to be poured directly into the practice of educating and is the solution nobody tries. K-12 school is not a training camp for the NFL, NBA, NHL or any other professional association. K-12 does not need another superintendent or a gaggle or principal oversight. K-12 education needs to be an annual activity with short breaks and less time to forget what you just learned. Although our education system is based on the Prussian model which seemed good teaching independent thought, breeding high levels of understanding, producing a literate class, the United States education system did not seem to deliver, it evolved over time with a focus on discipline and punctuality, with more social or moral focus rather than technical learning. It shows how ineffective it was as we find in the early testing statistics from WWI and WWII almost 100 years after the Prussian model was implemented! Yes, the education system was established by the "progressive thinkers" of their day like Mann but, counterintuitively it was only used by the industrialists. Some argue that historically, it was the industrialists who setup the publicly funded education system as a training school for workers in a "factory model" of education. In reality, the education system and the industrial revolution "grew up together" if you will, in parallel whereby the industrialists were able to reap a few small rewards like obedient timely workers who might not steal from them. The education system we find today is and was a result of population growth, national wealth creation, government centralization, central planning and centrally planned economies funded by national economic expansion and a number of taxes. The US economy created a demand for educated workers which was recognized by leaders of their day. If leadership were to "fuel the fire" of industry (wealth creation), if they were to create a moral, upstanding, obedient and skilled citizenry that had "good paying jobs", that they needed to be educated. It was not private industry doing this work as many suppose. This is where the idea that more education means better economy and we hear the echoes of these very arguments today except, the education they give like the "no child left behind act" brought to us by one of the most illiterate presidents in history is absurd nonsense!
Bushisms:

Under the Prussian model, the state would therefore train a child ready for the workforce, basic training that was "free" and beneficial to industry for the sole purpose of getting a "good job" benefiting the recipient of the education and helping the overall economy of the United States. Education that would provide industry with "good workers". This was the goal of Horace Mann, that the poor through education would attain "good jobs" and a better life through a better economy in a kind of, feedback loop. The better the educated, the better the job, the better the economy, the better the life and the better the person. This, among other initiatives during this time, was the genesis of the corrupt "public private partnership" essentially where the state works hand in hand with industry to provide "human capital" to build industry which in turn builds a nation. Mann's heart was in the right place and it was not until much later in the evolution of these public private partnerships that we find insidious corruption of the education model, the business model of education. To reiterate, it is not, as many suppose, because this is still hotly debated, that the industrial capitalist created modern education for their benefit. No, why would they? Why would they invest in someone else? The industrial capitalist of their day is interested in production at the lowest cost. Investing capital (money) in an unknown illiterate citizenry or their illiterate children is a loser in the context of their time and capital with no guarantee of outcome! In no way shape or form would that happen. Instead, at the time, Mann's initiative to provide free public education was a coincidental benefit the industrial capitalist was able to use or benefit from. They could simply take advantage of the state providing a pool of adequate humans who could be instructed and show up on time ready for input (instruction). Industrialists mostly did "on the job training" to people that were ready for input, with a mix of working conditions, pay, and limited expectation of security. Some things do not fundamentally change when viewing current circumstance through the lens of history.
In our modern era of education however, things are far different and the influence of big business has progressively gotten larger with new STEM models of education like that seen in the Battle Creek Public School system. BCPS received a $51 million dollar grant from the Kellogg Foundation to transform the school into a STEM school (Science Technology Engineering and Math). Whom does this benefit? Is it possible that students are once again subject of the 275 year old trope, educate to get a "good job"? Indeed, this is the promise. Depending on your perspective, this could be an attempt to finally self actualize the common dogma of the "factory model" but as a "big tech model" rather than an "industrial factory model". An updated version of a factory model if you will is what this seems to be. A new system built on top of the old to train worker bees for factories in the Battle Creek, MI area.
The fingerprints of big business are indeed in our institutions of learning, the state and big business collude in subtle ways historically but now, in far more overt ways essentially hijacking a public school with money. The Battle Creek initiative is a private experiment by a private foundation, in part, tax payer funded making it a "public private partnership". Things like the United States, the state of Michigan, your county, your township, your city, are all business models, and if they are not, they will become part of one, like your "public" education systems. Oligarchs will eventually own everything, you will own nothing and you will be happy working for peanuts! Children, their training, their education are foundational to nation building, state building, community building and maintaining a cohesive society which is why both the state and business take an active role in deciding what you learn, how you learn and what you know or better yet, what you do not know. When an institution is controlled by private industry or the state, students learn obedience, timeliness, basic, and I mean basic at best, literacy skills in subjects like math, reading and science. Children today are better TikTok'rs than they are readers. Contemporary institutions churn out "worker bees" to work in factories at the business park in Battle Creek, creating more widgets for consumption in a number of industries or they create the servant class working to serve in large service sectors of our economy.
In more elite institutions, the education model is far different. They educated their children to be managers, leaders, executives, critical thinkers, political puppet masters, the top 10% of society. Education should not be a means to an end, a "good job," but rather woven into the fabric of life in a continual process. We can improve things like literacy as the US Army did. This is done by properly funding schools, staffing with well qualified educators, eliminating the fiefdom hierarchy of principals and superintendents, and make available to all students, small class sizes with individual opportunities for instruction whereby they are deeply understood by their well trained educators. It can be done! We need political will and leadership to de-fund certain institutions that drag on our society, and fund others which can propel our society forward in immeasurable ways. The straight dope on education is, it is yet another problem typical duopoly politicians do not want to solve. They can continue leveraging it as a campaign promise because this is what people want. Voting for the establishment will never and I mean never get you anything close to a good education. It will, as in most things, leave you continually wanting, hoping, and desiring a "change", promise of change that is never realized.
In the next election, consider being a voter that thinks independently, not voting left or right but up, to a higher standard of government administration. One that implements viable and reasonable solutions. Be an "up-voter" and make the choice to vote up, America! It's the new clear option!
Vote Libertarian | The New Clear Option